10 Things to Do on a Summer Vacation in Penedès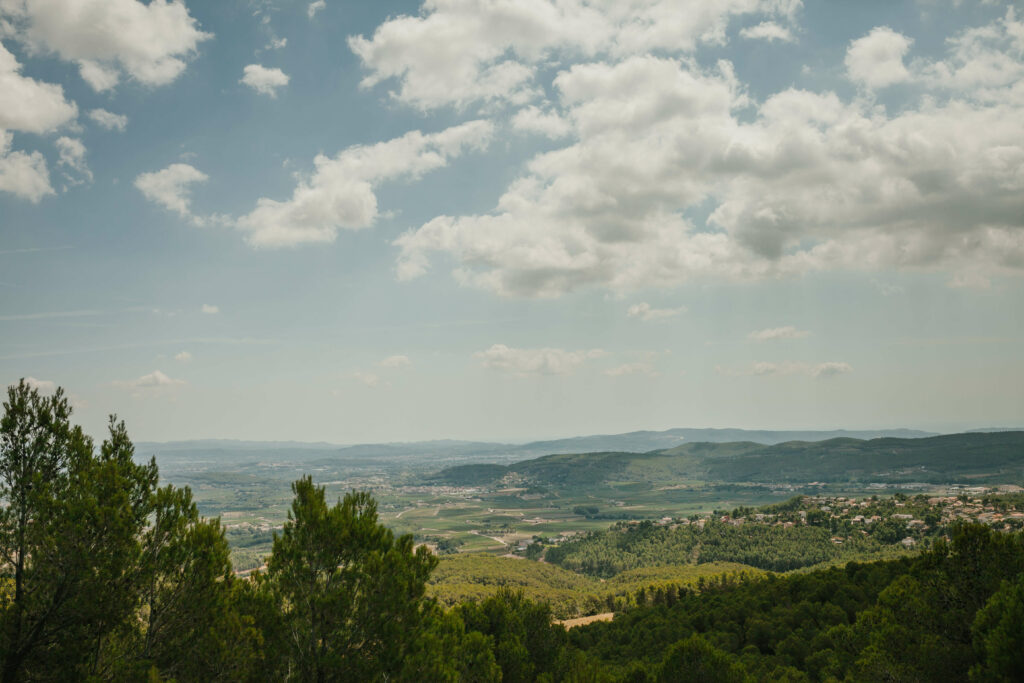 There are many places, stories and experiences to live in Penedès. Today in Parés Baltà Blog we would like to explain some of them to you.
It doesn't matter whether you only have a day, a weekend or an entire week, or if you love living adventures or contemplating history and imagine what our ancestors lived, here you'll find everything you're looking for: experiences and places that we've fallen in love and that we want to share with you.
Rehearsal of Castellers de Vilafranca
Human Towers or Castles and "castellers" are one of the best-known Catalan traditions, with the most personality and the most striking feature of Catalunya.
For years it has awakened so much admiration and curiosity that in 2010 it was declared an Intangible Cultural Heritage of Humanity by UNESCO.
The "castles" are human made towers directed by a group (or colla) of "castellers" formed of different ages, gender and complexions; these ones are placed on each other's shoulders, each time they climb through higher levels which can reach up to 10 floors in height to finally form the castle.
These castles aren't only for show: they are history and tradition. There is constancy of their existence up to the end of XVIII century. They represent important human values such as union, trust, solidarity, and the spirit of overcoming.
During the months of summer, we can watch de rehearsals of the "castellers" 3 times per week at Cal Figerot, in Vilafranca del Penedès. You can check the rehearsals agenda here.
Enjoy it while having something to eat or with a glass of wine. An exciting and astonishing show.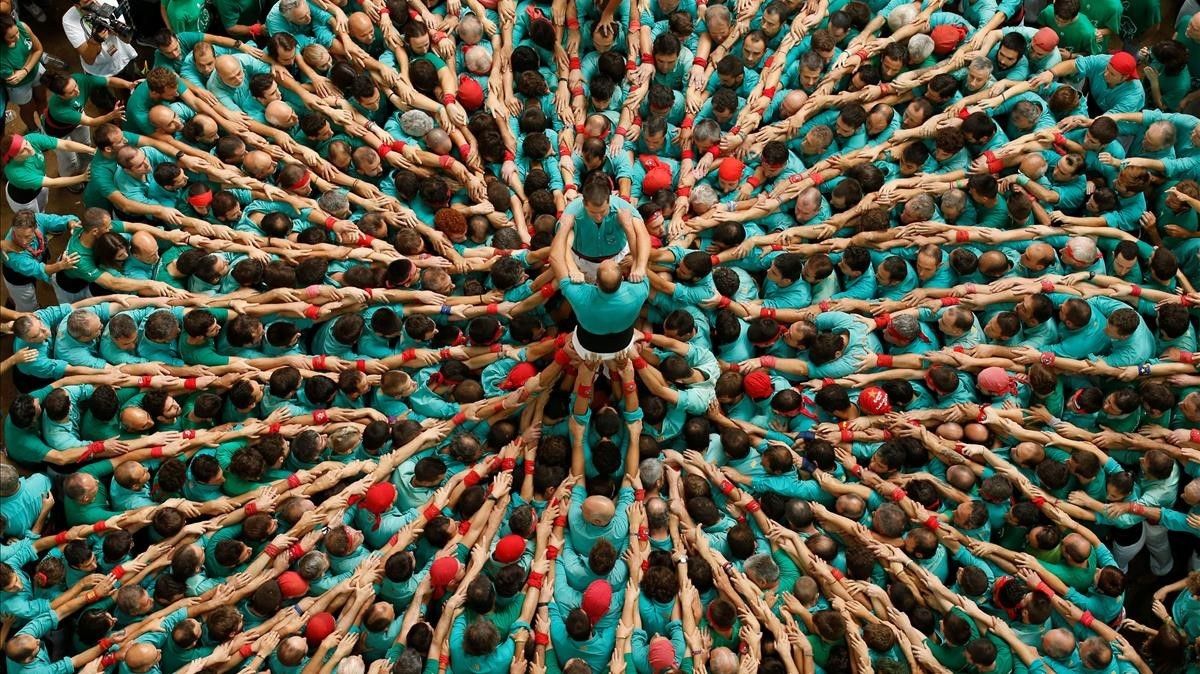 Walk through the Ordal Peach Market
The peach d'Ordal market takes place at Subirats square in Sant Pau d'Ordal, in a festive environment.
This market is the meeting point for all lovers of quality fruit and proximity, which allows us to buy freshly picked peaches from the farmer therefor avoiding intermediation which adds quality to the product. We can also find all kinds of elaborations using peach like jam and other products from the area such as wines and cava.
Sant Pau is a small village that offers a wide range of gastronomy and a fantastic landscape surrounded by vineyards and peach fields.
All Saturdays and Sundays from 9:00 to 14:00 during the months of June, July and August.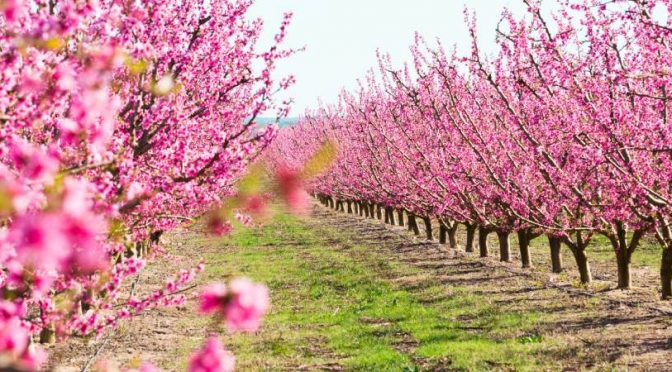 Relax and fun in Sitges
Sitges is a seaside town full of charm that offers a wide diversity of leisure activities; from enjoying its beaches with crystal water, or walking through its blue and white painted alleys, which reminds us of its past as a fishing town, to its nearly infinite gastronomy offers and night-time leisure. You can also find history and culture distributed through five museums around Sitges, we will discover its history, legacy and why such important artists as Santiago Rusiñol settled in this small town on the Mediterranean.
Among these five museums we can find Interpretation centre of "Malvasia de Sitges", a space that values this grape variety, which until recently, went unnoticed.
The building that houses the interpretive centre is the old Corral de la Vila, an 18th century building for livestock use and popular economy. The main itinerary of the contents revolves around the Sitges wine past as the umbrella of Malvasia de Sitges, claiming its multifaceted position as a variety and as a wine.

Indulge yourself in the Chocolate Space
Simón Coll's chocolate space is the visitor centre of the chocolate factory under the same name. Located in Sant Sadurní d'Anoia, you'll be able to enjoy a unique sensory experience that will put your senses to the test. They do tours every day and you can book online here.
At Parés Baltà we offer you a wine and Simon Coll chocolate tasting. A delicious experience you can book here.
Explore and immerse yourself in Penedès
If your passion is nature and you love exercising, in Penedès you will find many routes for walking, cycling or for Segway.
We propose the Route of the Hermitages of Pontons that will allow you to discover two hermitages located in steep and aerial places of great beauty.
The start of the route is the parking space next to the entrance road to the village of Pontons. This is a 7.65 km circular route that can be completed in about 3 hours. The difference in level is 740 meters, so take some water and be prepared for the climbing.
Before starting the route, it's worth it to have a walk through the village: its narrow streets with steep hills, the houses built next to the river, and the cliffs, draw a completely picturesque landscape, a must-see destination for hiking lovers.
The Garrigues and the forest dominate the imposing landscape of Pontons which rises above the Penedès plain. Natural formations like the Cave of Batlle Vell or sites of the Bronze Age and Neolithic give information about life thousands of years ago.
There are also many great options to eat or stay. If you want us to help you find the best places, contact us here.
Submerge yourself at the river Foix
If we had to choose one from all the places from the landscape of Penedès, without any doubt, it would be this one: the "Pèlags del Foix".
Inside the protected area of Foix near Torrelles we can find more than 600 hectares of forest, vineyards planted in terraces, a river and it's "pèlags": little swimming pools of crystal water which flow clean and beautifully all the year around. You can feel the peace and tranquillity accompanied by the sound of biodiversity: Bees, butterflies, grasshoppers and birds are the protagonists of this protected area which you can discover it through our Terroir Tour, an adventure in a 4×4 that will take you to discover this hidden and unknown corner in Penedès.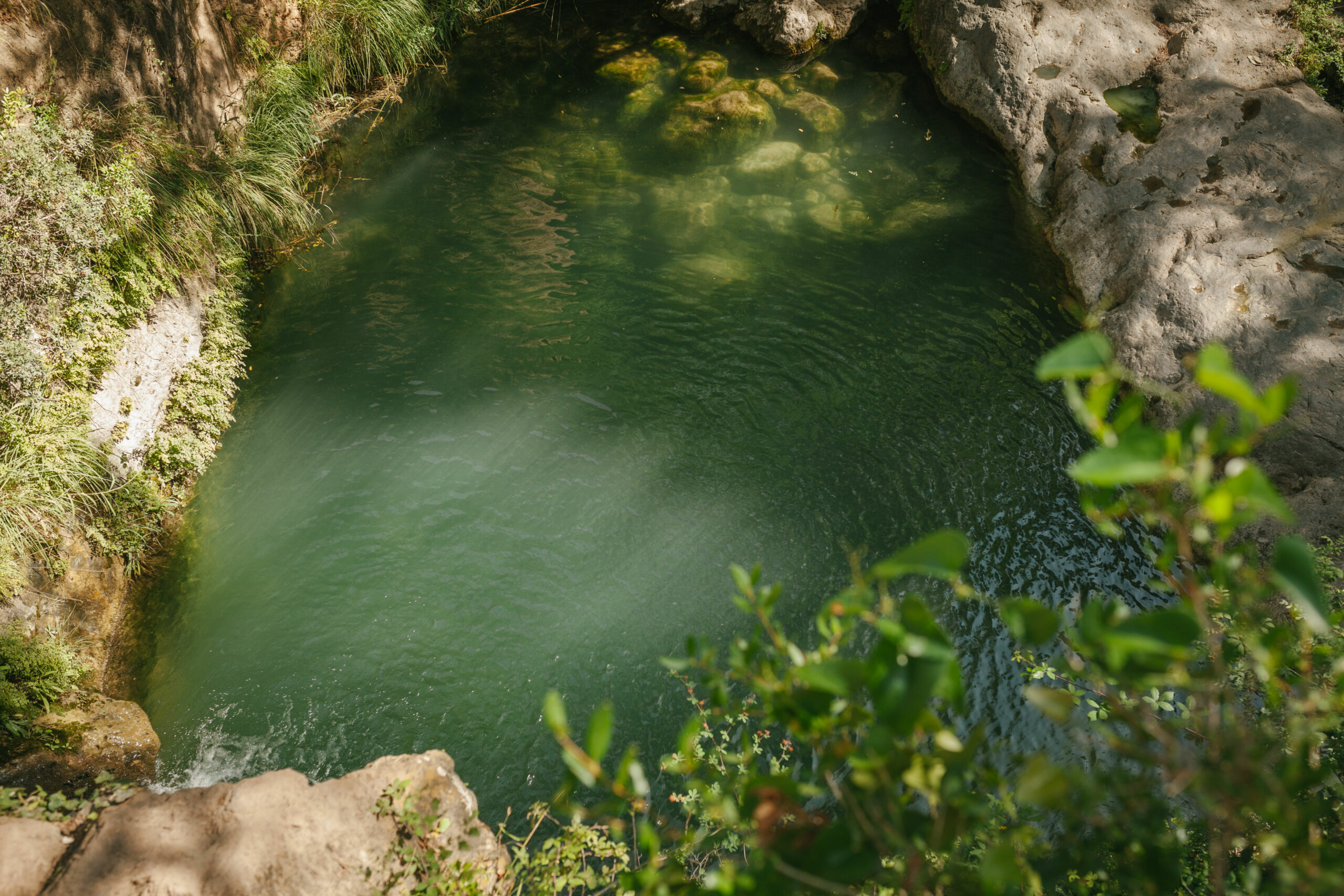 Wine tastings and pairings at the winery
At Penedès we can find more than 200 wineries and most of them offer a wide range of complete wine tourism based on creativity, tourism quality, sustainability and knowledge.
The pillar of the tourism in the Penedès wine region is to offer a unique product with an identity, which enhances the values of its regions, its landscape, its gastronomy, its culture and also its inhabitants. The offer is as wide as it is diverse: from sleeping under the stars to horseback riding through the vineyards, to express tastings and 4×4 tours like the one we offer you in our winery.
At Parés Baltà we are committed to sustainable, quality and return tourism, from which the whole territory can benefit, learn and improve. We have the Safe travel and Biosphere Seal, which recognize us as a sustainable and safe winery.
All our visits offer proximity products; the cheese from the cheese pairing is from Xerigots and the chocolate from the chocolate pairing comes from de Sant Sadurní factory, Simon Coll chocolate makers.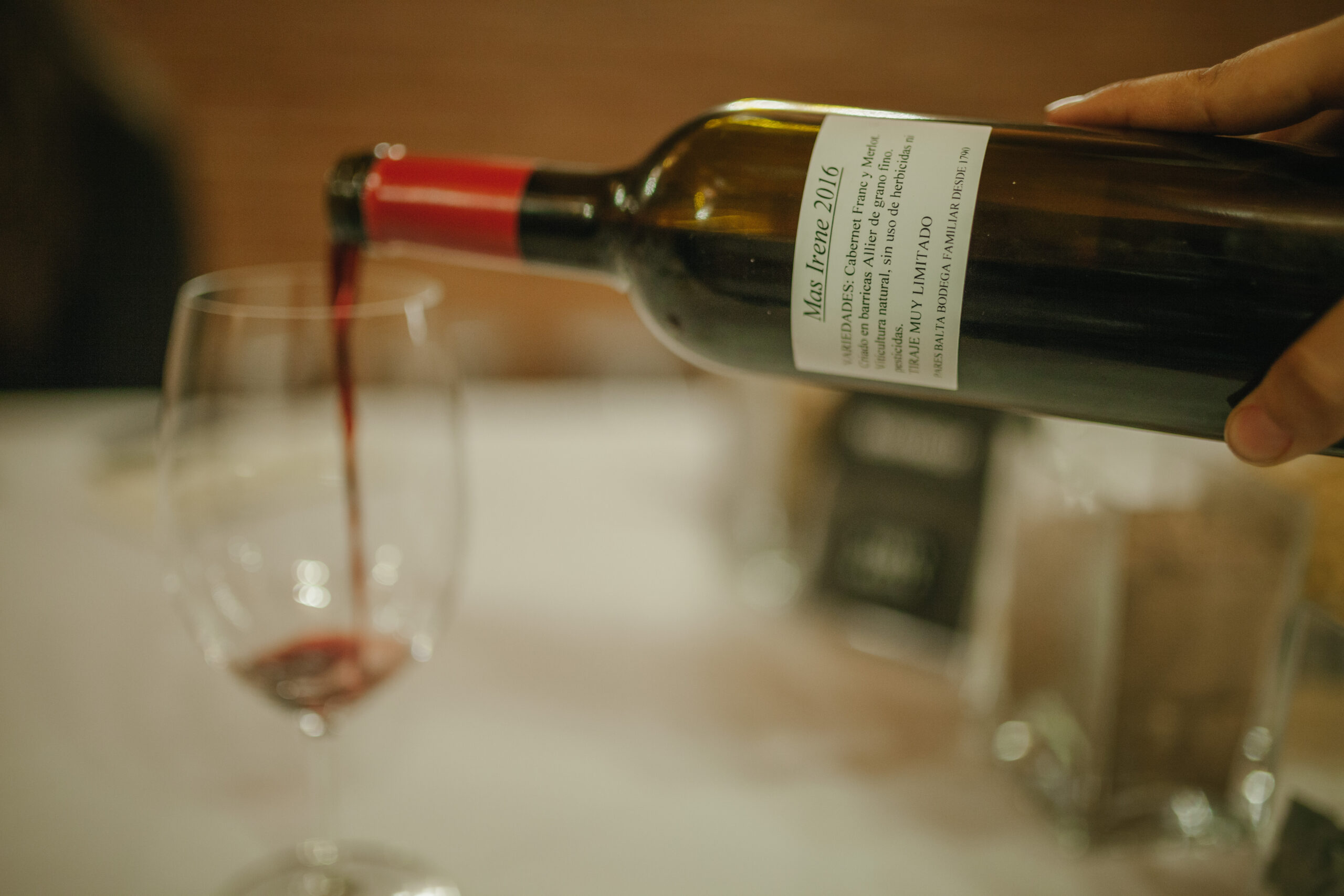 Visit Penedès Tourism to discover various options that Penedès offers and book your visit with us here.
We are sure that if you taste Penedès, you will want to come back. And we'll be waiting for you!
Wine and cava culture at Vinseum and at CIC Fassina
The VINSEUM is the Museum of Wine Cultures of Catalonia, and it will allow us to discover wine and its culture through its history.
The VINSEUM, is located in the centre of Vilafranca, it's a space thought for the visitors to experience wine culture and everything that surrounds it. At VINSEUM you discover the character of a territory, which for centuries has focused its activity on viticulture.
This relationship with wine has influenced the history, culture and traditions of the region. The VINSEUM is not just a wine museum, it is a space of intense cultural and tourist activity for all audiences.
Every 3rd Saturday of the month they offer a guided tour through the exhibition of wine cultures by one of the museum team's technicians.
You can find more information here.
In Sant Sadurní d'Anoia we find the CIC Fassina – Cava Interpretation Centre. Located in a wine spirit distillery built in 1814, the current visit to the Cava Centre is an immersive, participatory and playful audio-visual proposal that will take you on a journey through its origins, history, riddles and secrets of cava.
Are you curious about where cava bubbles come from? Or why the bottles are closed with a cork? At Cava Centre you will experience and experiment the world of cava with your five senses.
For more information and reservation please click here.
The legacy of the Iberians in the Font de la Canya
La "Font de la Canya" is an Archaeological Site located at Avinyonet del Penedés. The archeobotanical studies carried out at the site confirm the role of this settlement as the cradle of viticulture in the Penedès since the end of the 7th century BC (625-600 BC). The hundreds of recently recovered carbonized and mineralized grape seeds represent the most important and oldest documented set until today's date in Catalunya.
We can also visit the Centre of interpretation DO Vinífera, a permanent sample of the result of more than 18 years of excavations at the Iberian site of the Font de la Canya. It tells the story of this commodity centre in ancient Cessetania and the archaeological research of the vineyard and the wine that take place there.
The interpretation centre DO Vinífera releases an exhibition dedicated to the most outstanding Iberian civilization in Catalonia.
If you're a lover of history and ancient civilizations, you can't miss this visit.
Find more about it here: https://fontdelacanya.cat/informacio-i-reserves/

Taste the Penedès and its gastronomy
The gastronomy in Penedès is very varied and it's based in local products. The products of the land, vegetables and greens are of great quality, from all over the region, and they combine well with the meat of native breed such as the black rooster of the Penedès.
The recipes with roasted rooster or duck with pears or plums are well known, and you shouldn't miss the Rooster Gastronomic Cooking Show held in the Rooster Fair during the month of December. You can also enjoy excellent artisan curated meats, delicious salads seasoned with Vilafranca's "xató", rabbit or beef with mushrooms and fish recipes originated from the neighbouring coast of Garraf. In addition, we can find peaches and cherries, growing on the edge of the vineyards. Also not to mention the excellent pastries, such as the famous cakes of Vilafranca, the catànies or the delicious artisanal nougats of the Christmas season.
The perfect harmony between the gastronomy and the wines and caves from Penedès can be proven with an extensive offer of restaurants from the region. With them you'll be able to find different dishes with local, traditional products such as signature dishes. If you want to know our recommendations, contact us and we will offer you the best proposal according to your budget and palate.
---
Now that you know how many options you can discover in the Penedès, will you miss them?
Book your visits at visits@paresbalta.com , make us a call 938901399 or through our website.
We look forward to seeing you!