The philosophy of respecting the natural world and distancing ourselves from the artificial has been a constant in the way of thinking and acting of the three generations of the Cusiné family.
We believe that a glass of wine should only contain fermented grape must capable of transmitting emotions.
To achieve this, we must treat the vineyard as a living being. Only in this way will we be able to produce a wine with vitality, lively and expressive.
This is why we have always opted for biodynamic and organic work in the vineyard, and for working with minimum intervention in the winery.
To do this, we must work with grapes of the best possible quality, respecting the fruit and its character during vinification.
Starting from the premise that we work with healthy, balanced, low-yielding grapes, one of the most crucial decisions is to determine the harvest date for each plot.
For this reason, before and during the harvest, we carry out exhaustive and precise ripening controls, analysing not only the traditional parameters of alcoholic ripening, such as sugar and acidity, but also phenolic ripening, controlling the ripeness of the skins, seeds and pulp of the grapes and carrying out organoleptic tastings of the bunches.
All this in order to obtain wines and cavas of the highest quality and faithful to their terroir.
Minimal intervention
At Parés Baltà, both in the vineyard and in the winery, we follow the philosophy of minimum intervention, as we believe that the less we intervene or manipulate the fruit that nature gives us, the more authenticity we will obtain from them and, consequently, from our wines.
Our aim is to give the vineyard and its varieties the leading role in the wine, far beyond the different oenological processes that we can apply in the winery.

In the winery we work with:
• Minimal use of added sulphites, below the most demanding regulations for organic wines. Sulphites are antioxidants and antimicrobial, and the yeasts metabolise a small amount that does not exceed 10 mg/l maximum.
• We do not use any chemical additives to stabilise or maintain the wine.
• Wine stabilisation by cold temperatures.
• Minimal fining and always with products of vegetable origin.
• Minimal filtering and only when necessary.
• Use of containers that do not alter or hide the characteristics of the wine, such as ceramic amphorae, glass demijohns and stainless-steel tanks.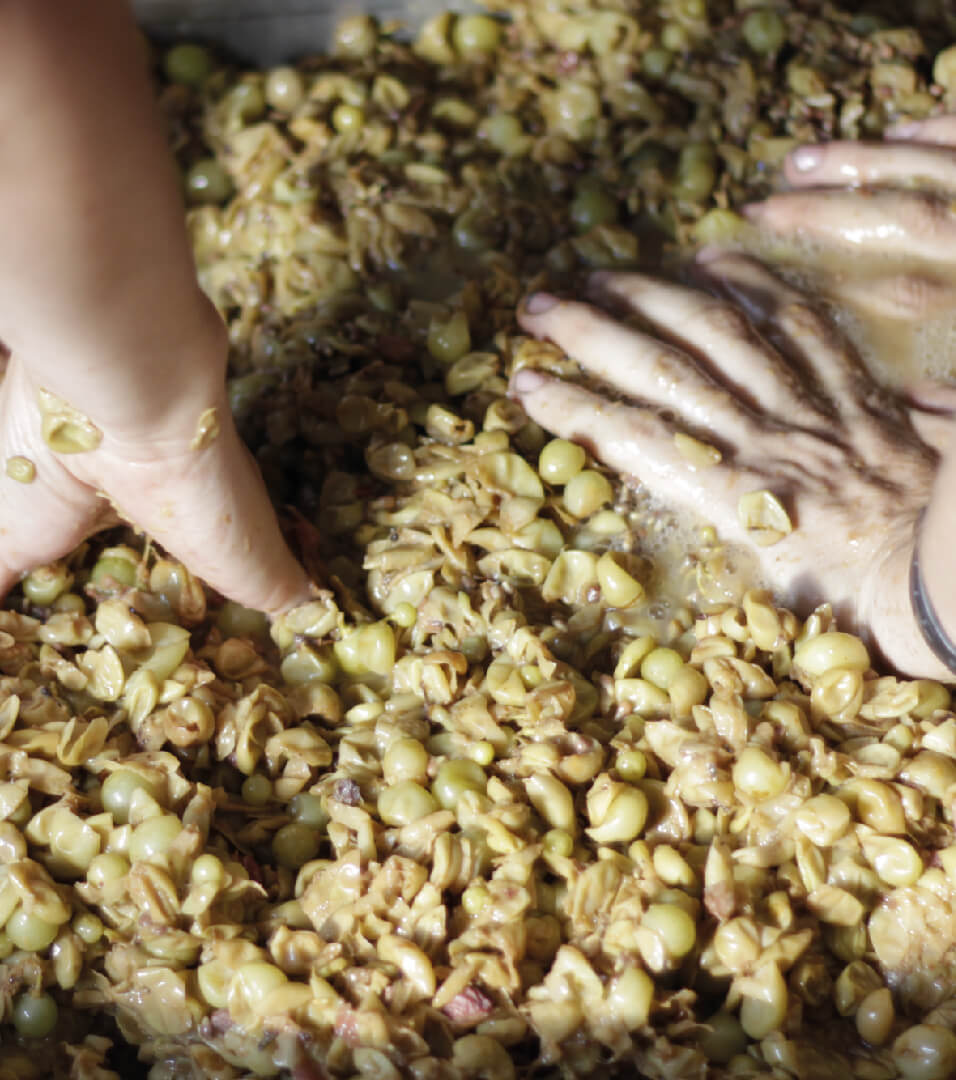 Our aim is to make wines and cavas of the highest quality and faithful to their terroir, for this we work with minimum intervention both in the vineyard and in the winery.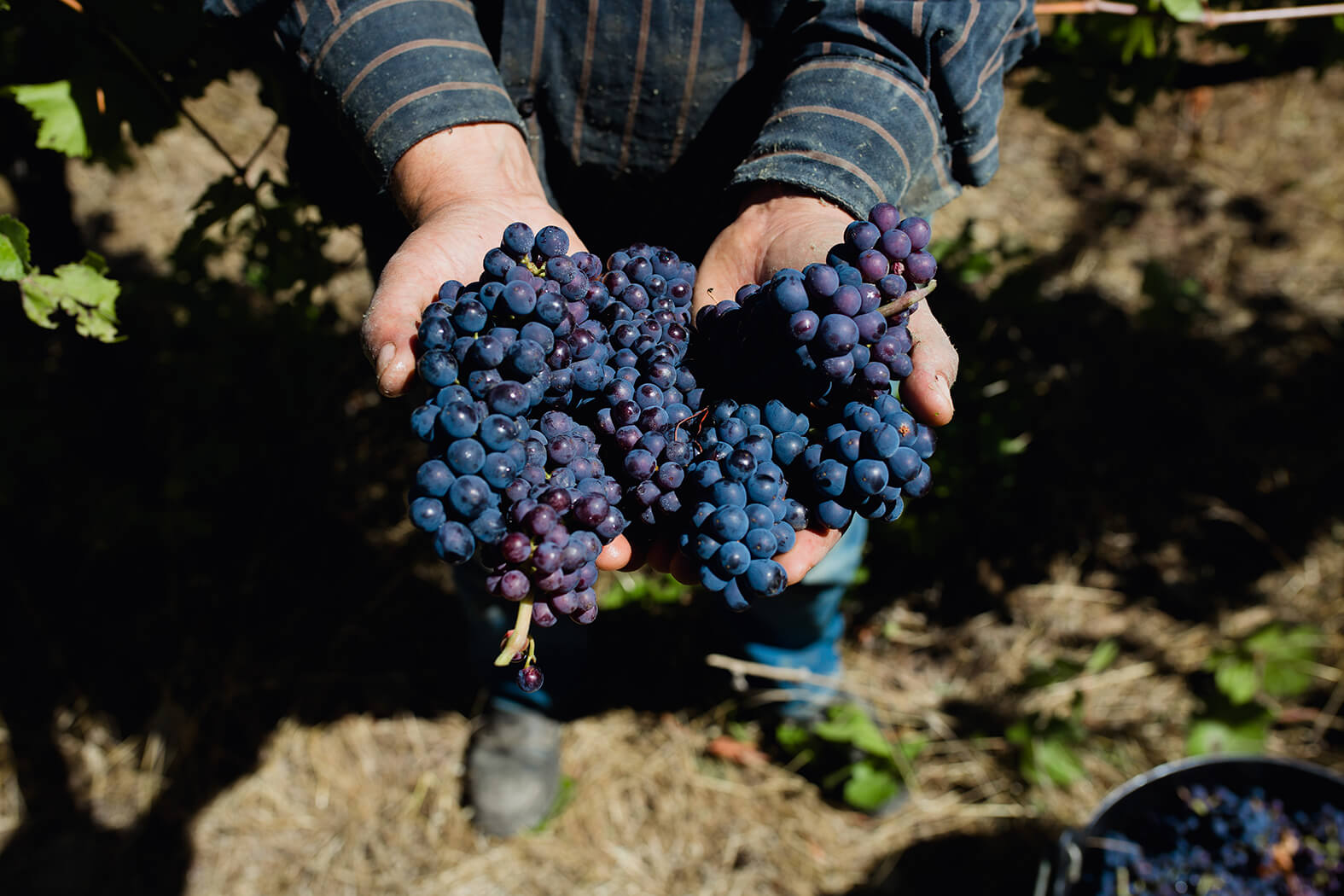 Parés Baltà natural wines
A natural wine is a wine made with the minimum intervention (human, chemical and technological) both in the cultivation of the grapes and in the vinification process. Strictly speaking, natural wines are those that are produced spontaneously, without adding or removing anything during the winemaking process.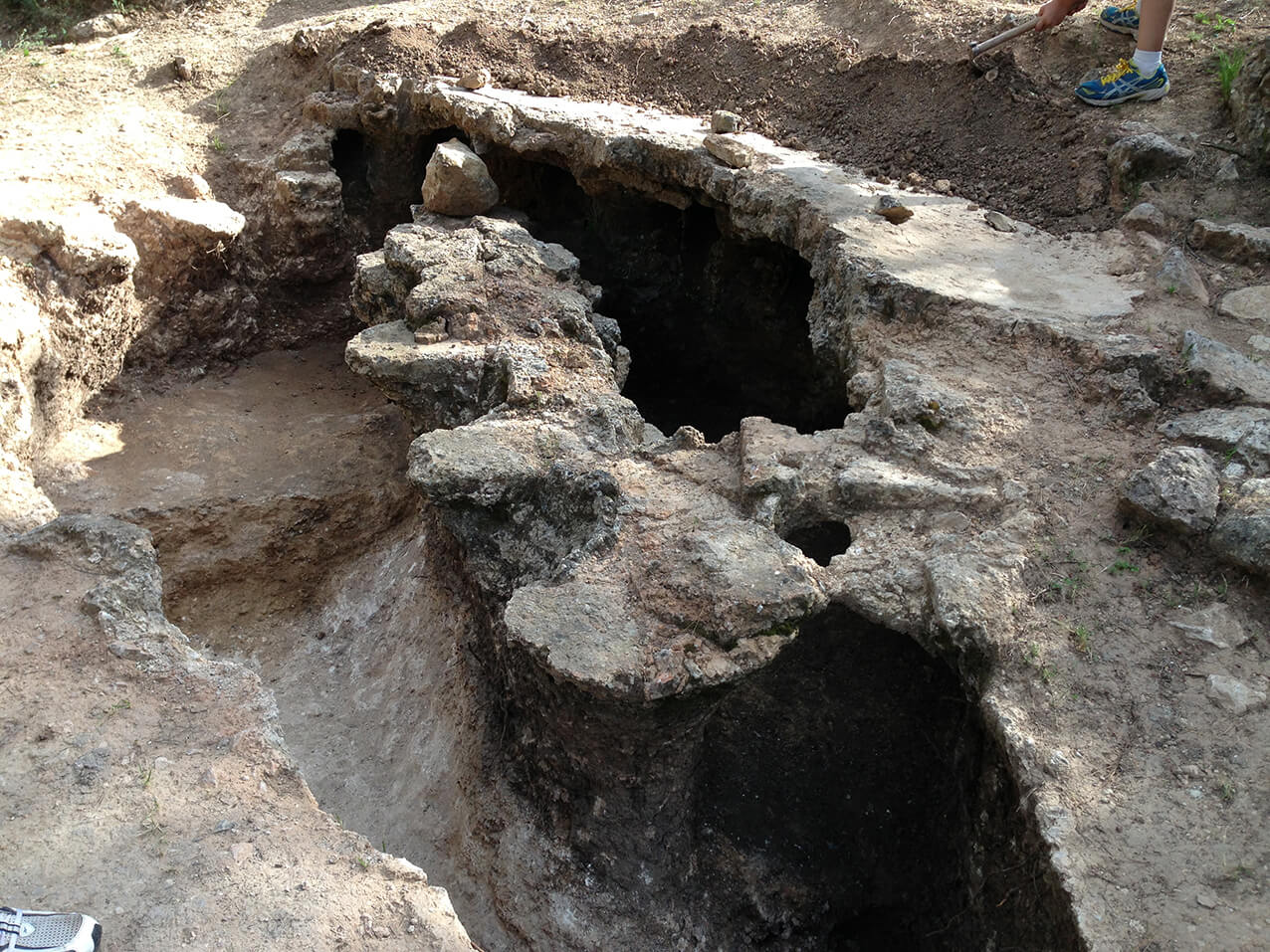 In 2008, within our Les Valls estate we discovered a 2,500 year old Iberian site, and in 2012 we found another 2,000 year old site, where we found sewers and ovens that this civilisation used to create tools and ceramic vessels to transport food and drink across the Mediterranean Sea.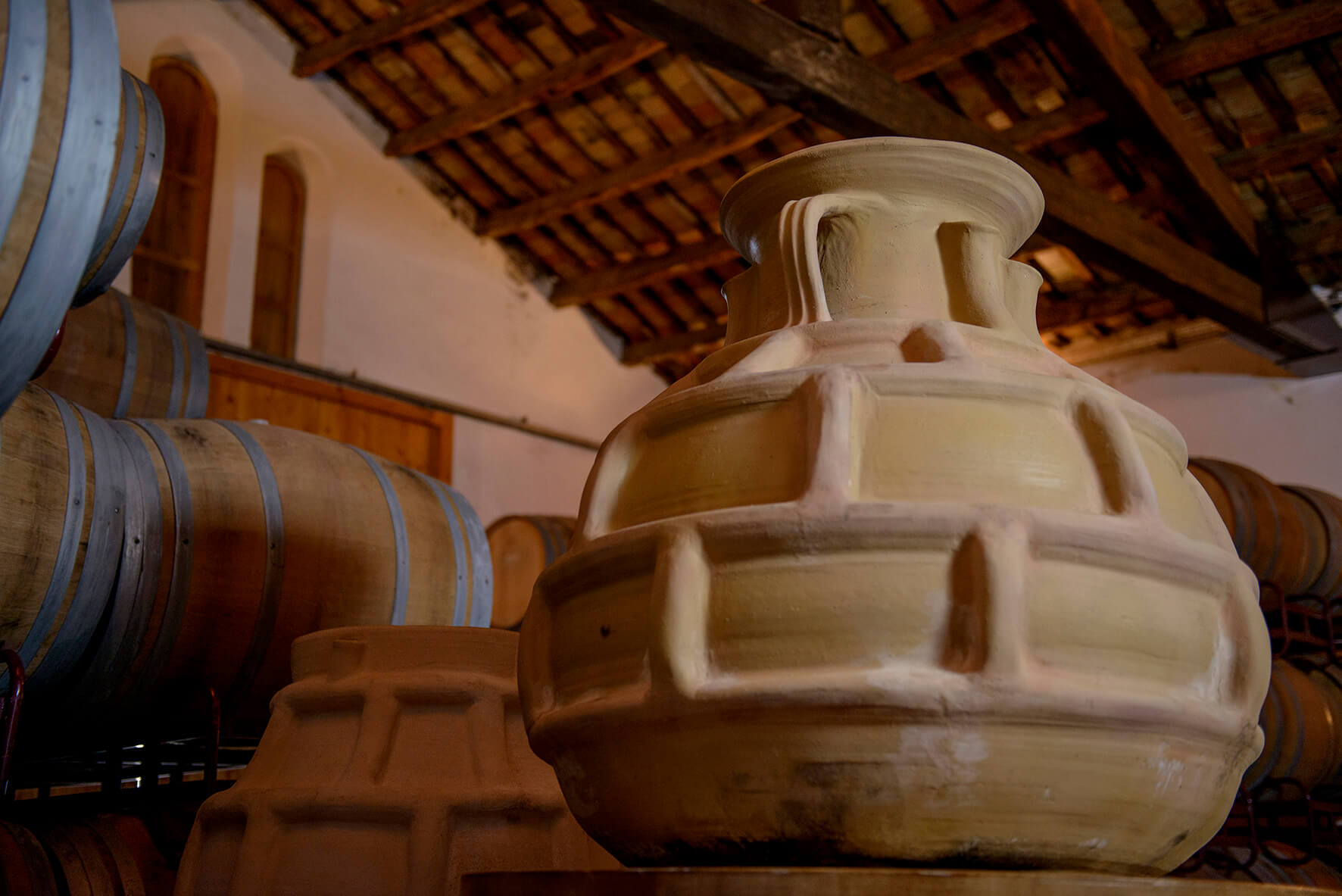 These discoveries, of great historical value, inspired our winemakers Marta and María Elena to make our first natural wine fermented in clay amphorae. A local potter and friend of the family made the first amphorae from clay extracted from our own Les Valls estate, the same clay used by the Iberians to create their pottery vessels, and with them we made our first natural wine, Amphora Roja.
Vegan wines by Parés Baltà
A vegan wine is one that has only been in contact with products of vegetable or mineral origin in its production process.
The wine is grape must fermented by the action of its own yeasts, but throughout its transformation process, it forms natural sediments; these sediments are harmless to health and do not alter the aromatic or taste characteristics of the wine.
To achieve a wine free of sediments of any kind, and only when necessary, we use oenological products of vegetable or mineral origin, never animal, which absorb the molecules that cause these sediments.
All Parés Baltà wines and cavas are suitable for vegans.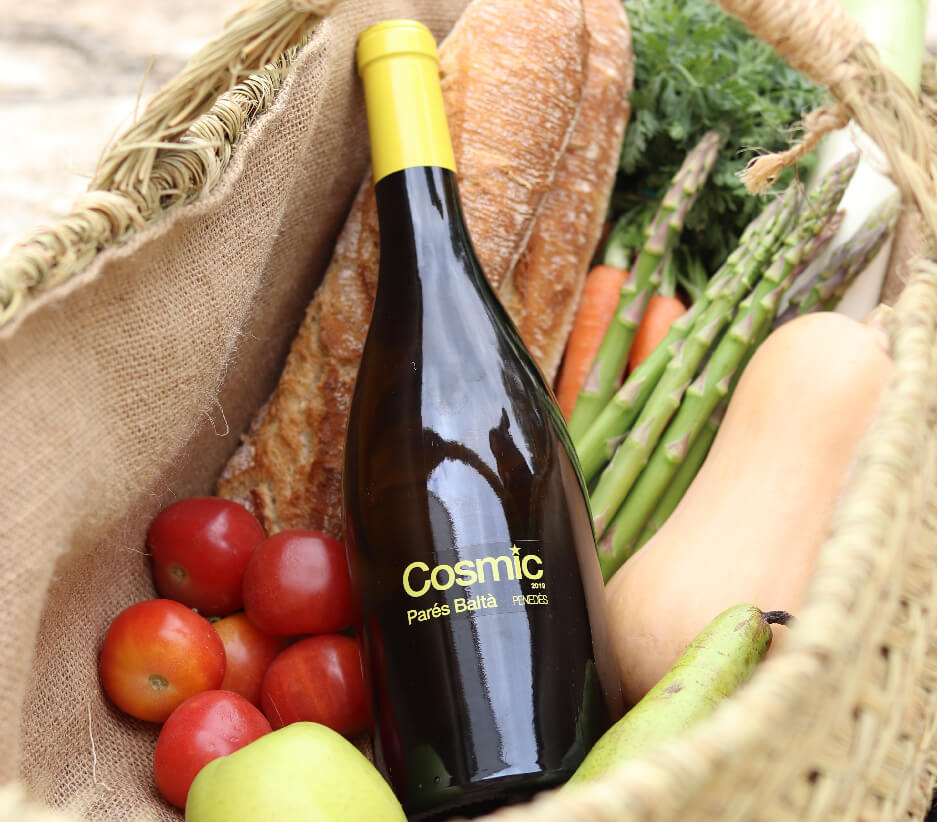 Parés Baltà Organic Wine and Cava
Parés Baltà cavas combine tradition and modernity. They were the first wines to be produced in the family winery and they are balanced, high quality and with a marked Mediterranean character.
All our sparkling wines are organic, certified by the CCPAE, and are made from grapes grown biodynamically.
We vinify our sparkling wine according to the traditional or champanoise method, with a second fermentation in the bottle.
The most important transformation that the must undergoes in the process of becoming wine is fermentation. This is a process caused by a yeast in the grape, which transforms the sugar present in the must into various compounds, including alcohol.
Once the first fermentation has finished in stainless steel tanks, the wine is separated from the solid matter deposited at the bottom of the fermentation vats, and natural precipitation is carried out at a low temperature in order to eliminate the last particles in suspension and leave the wine clean.
There are different types of sparkling wines, but only the highest quality ones contain the bubbles from a second fermentation in the same bottle. The subsequent ageing process in the bottle that characterises them allows them to acquire their organoleptic characteristics and to gain complexity over time.
At Parés Baltà, we make a wide range of long-aged cavas, some of which can remain in the cellar for up to 100 months, such as the Cavas Microcuvée, Blanca Cusiné, Rosa Cusiné and Cuvée de Carol.
Women winemakers
Maria Elena Jiménez and Marta Casas are Parés Baltà's oenologists and sisters-in-law. Their work is reflected in the wines they make, which have character and concentration as well as elegance and balance.
Since 2002 they have shared the oenological tasks, bringing talent and innovation to the winery. Together they have revolutionised the way of making wines at Parés Baltà, giving each wine its own personality and transmitting the character of each variety, from the vine to the glass.
Their innate curiosity and their desire to learn and experiment have led them to recover varieties and winemaking methods that had practically been forgotten, thus managing to make very special wines.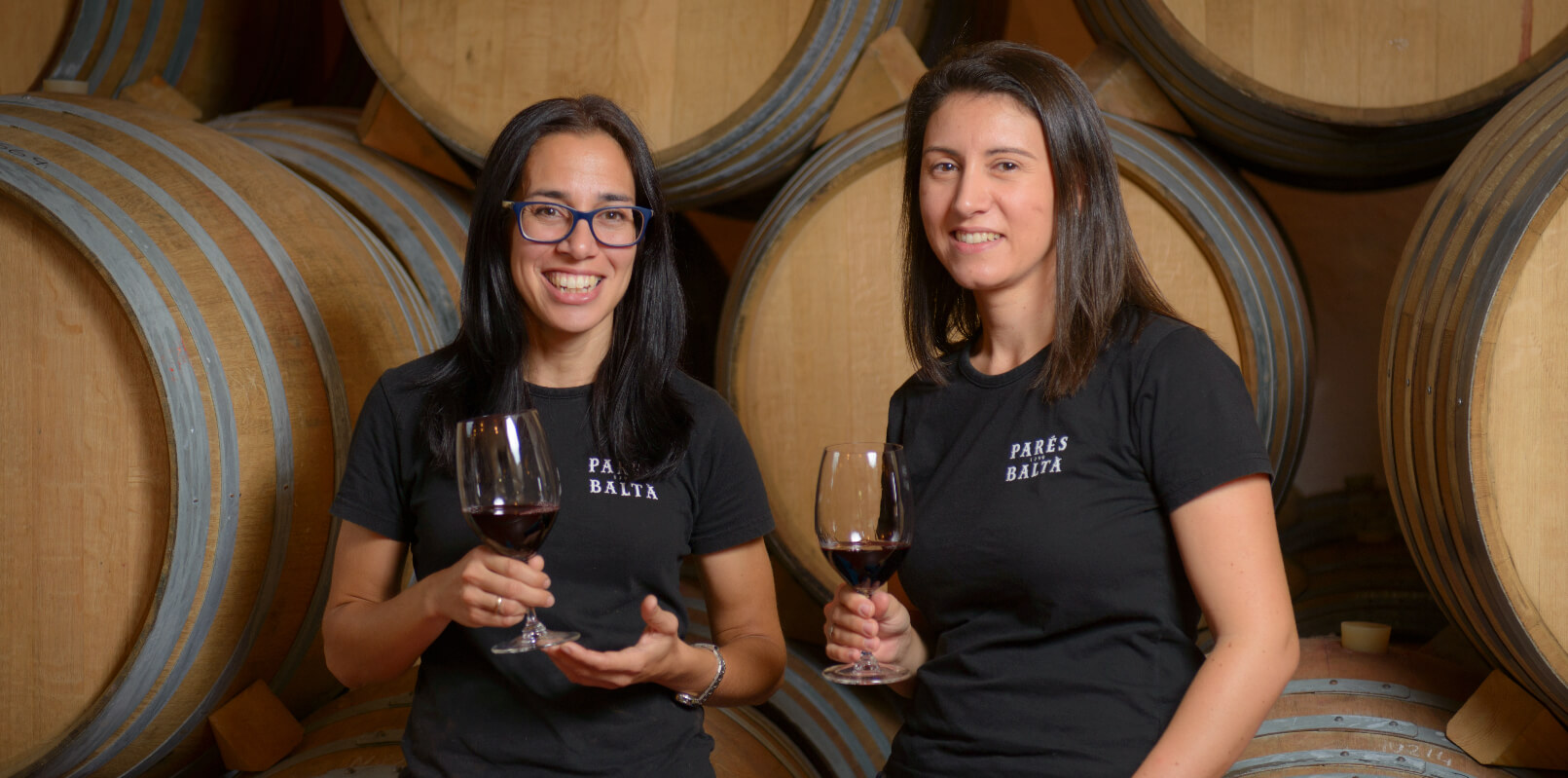 Mª Elena Jiménez
Oenologist and Chemical Engineer
Life takes unexpected turns.
Born in Terrassa in 1973, I graduated as a chemical engineer at the Chemical Institute of Sarrià (University of Barcelona) and worked as a consultant for some years. It was during that time that Joan, my partner and now husband, introduced me to the magical world of wine.

It was love at first sight that brought about a change in my professional career and led me to start studying oenology.

Once I had obtained my second degree, this time at the Faculty of Oenology of the Rovira i Virgili University (Tarragona), I decided to broaden my knowledge by travelling to some of the most famous wine regions in the world: Bordeaux, Australia, Burgundy, Côte du Rhône and Napa.

When I returned, I joined the family winery working as an oenologist and contributing new ideas on vine cultivation and winemaking.
Marta Casas
Oenologist, Sommelier and Pharmacist
The world of wines ran through my veins.
I was born in Vilanova i la Geltrú in the rainy month of December 1976. I spent my childhood with my grandparents and great-grandmother, who had a small vineyard. I never tired of cycling around it. We also had a small cellar in the basement of their house with a press, some 800L barrels and two cement tanks… Which quickly became the perfect place to play.

I studied pharmacy at the University of Barcelona. During my studies, I met Josep, who, years later, became my husband. It was at that time that my passion for wine was awakened by Josep, who introduced me to wine tasting and took me to the wine regions of the world. I was so interested in the grape harvest and the winemaking process that I decided to take part in the winery's tasks in order to learn.

As soon as I finished my pharmacy studies, I began a degree in oenology at the University of Tarragona, combining my work as a pharmacist with my studies.

When I graduated, I got married. Our wedding trip took us to wine regions in France, Chile and California… And we continue to travel whenever time permits: "we are wine lovers and we want to learn more and more about this world".