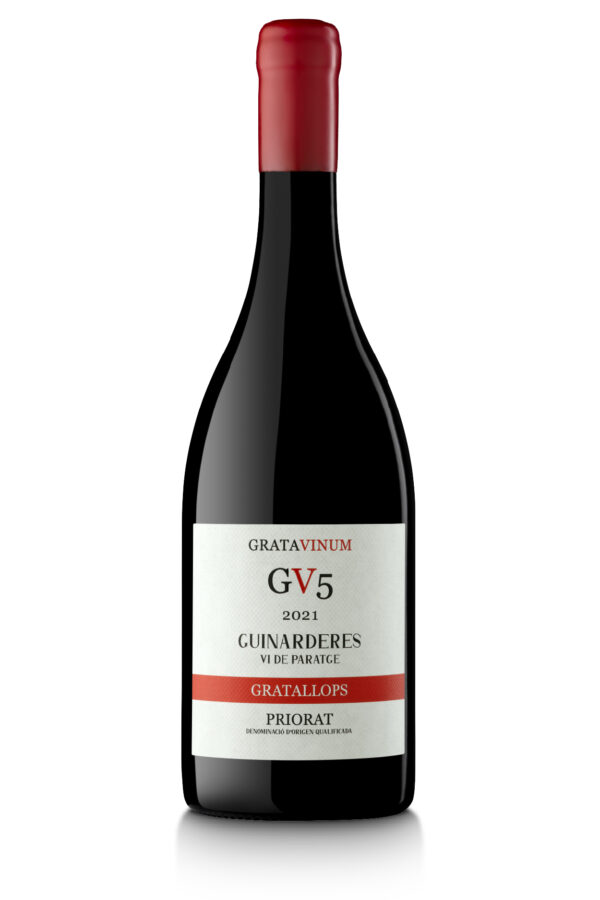 GV5, Vi de Paratge
2019
An organic wine born in Priorat with its own personality
Gratavinum GV5 is born from the Cusine family´s desire to make quality wines in the well reputed region of Priorat, bringing together the special terroir and their passion for wine. Their philosophy is based on respect for the environment, passion for nature and the enjoyment of making this exciting project succeed.
With GV5 we strive to produce a unique wine with personality; a balanced, elegant, fine and fruity wine combined with the minerals and touch of the terroir of Priorat.
52,50€
VTGVGVC2000706S

Vegan Wine

Certified Organic Agriculture by CCPAE
Tasting Note
Sight
Nose
On the nose, it starts with black fruit jam and toasty reminiscences, changing into mineral notes later, especially phosphorous and graphite.
Mouth
Powerful, with a high quantity of great quality tannins, sweetness and velvety. Mineral notes, especially graphite, excellent acidity and very long aftertaste. Fresh, showing the terroir character.
"Inky black, with roasted, meaty aromas, baked plums and graphite. Warming and delicious on the palate, with great balance and perfect evolution. Roasted fruits, fully evolved tannins. Everything in its place. A big wine but with surprising drinkability, and one that really speaks of this hot, mountainous region. The oak is well integrated, if still noticeable."
The morning Claret
Simon J. Woolf, journalist
Varieties
This wine is made with 95% carignan and 5% grenache cultivated applying biodynamic farming in our vineyards in Priorat.
Winemaking
Hand harvested. Pre-cold maceration of 7 days at 4ºC. Alcoholic fermentation in new French and Hungarian oak barrels of 400l for 11 days at 28ºC.
Aged 14 months in the same barrels.
How to pair this organic wine
Pair it with cured meat, stew, game meat.
Serve at 16ºC. Decant before serving.
When to enjoy it
Evenings of good company and wine, where the protagonist is not you but that wine, which caresses and envelops you like satin.
Acknowledgements