Parés Baltà is a winery that expresses itself through the voices of women winemakers, where passion, heritage, tradition and innovation go hand in hand.

On International Women's Day, we want to share with you the vision of our women winemakers, María Elena Jiménez and Marta Casas. Since joining the winery they have played a key role in maintaining the legacy of their grandfather through the continued ecological cultivation of the vineyards and revolutionizing not only the methods of vinification and viticulture but also promoting biodynamic farming practices since 2013, enhancing the perception and quality of Parés Baltà wines.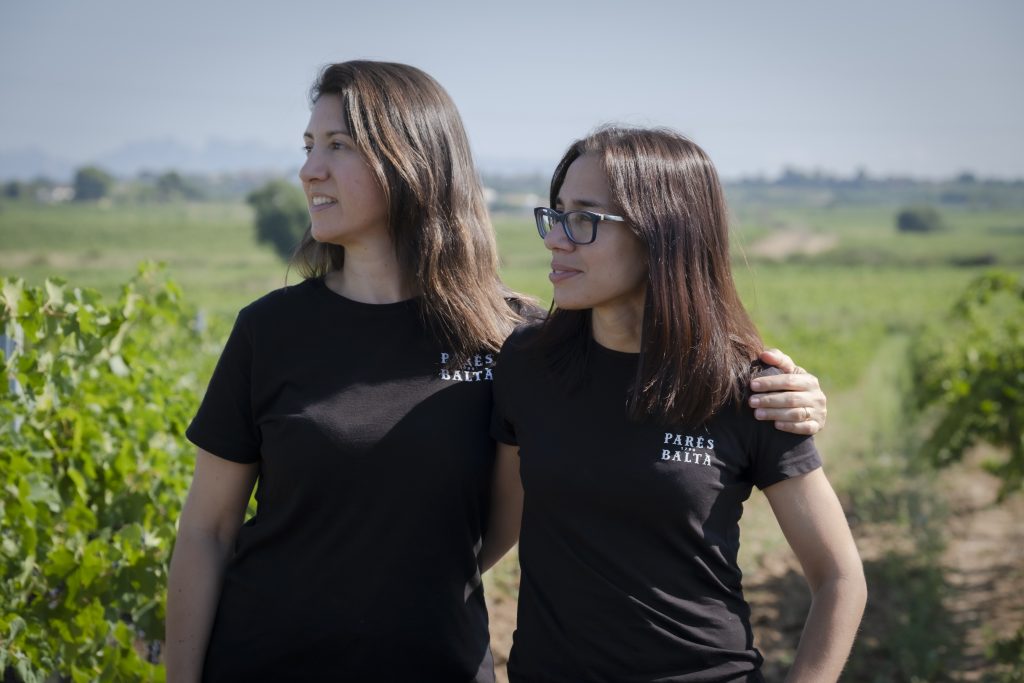 We know that the best wines are the result of a balanced relationship between humans and nature, and that managing the vineyards in harmony with the ecosystem gives us wines that represent a sense of place. We vinified with minimal intervention, as a result we get wines that show the true expression of the vineyards.

Maria Elena Jiménez and Marta Casas, women winemakers
---
How did you get into the wine business?
Maria Elena: Although it may seem sappy, love was the reason for everything. My husband, by then just my boyfriend, was the one to introduce me to wine and make me fall in love with wine along with him. I am a chemical engineer, and in those days working as a consultant, when my husband proposed me to return to the university to study enology in order to work together in the family business. And all the tiny pieces began to fall in its right place after that, wine , love, family, children, passion till reaching the point where I am nowadays, managing the cellar altogether with Marta.
Marta: When I was studying Pharmacy at the University of Barcelona, ​​I met Josep, who would be my future husband. With him came my interest in the world of wine. Josep introduced me to this world through tastings, and when we were married, we traveled to wine-growing regions around the world, my passion increased as time passed and I discovered more things, and with the support of Josep and my brother-in-law, I decided to study Oenology. After studying Oenology at the University, I joined the winery, together with my sister-in-law Maria Elena. And a few years later, we studied Biodynamics, the type of viticulture that is most respectful with the planet and plants, and that is part of my daily life – not only at work, but in my day-to-day life, as it is a philosophy that goes far beyond agriculture. The romantic point of the story is that one of our wines, Marta de Baltà, bears my name in my honor. My husband proposed that I marry him, and at the same time, dedicated this wine to me. It was very romantic, and I accepted both requests. The origin of the story is that I was born into a family that had a small vineyard from which they made wine for their own consumption. It was my grandfather's hobby. Now I realize that wine has been a part of me since I was very little.
Describe your challenges of being a woman winemaker in a predominantly male industry? Is it still an issue or just an old stereotype?
Maria Elena: I truly believe that the challenges of a woman winemaker are the same as the ones that any working woman finds during her professional career. The difficulty in reaching a certain level of responsibility, lack of confidence in a woman opinion…Many women work in the wine industry but very few have a leading role.
What has been the hardest part of the wine business for you in terms of gender issues, if any?
Maria Elena: Even when I have been fortunate to have the backing of the family, public trust and prestige does not come easily for women, just after years of consistent work does it arrives, whenever men achieve it more naturally.
Where are women going to be in the industry in the next 10 years?
Maria Elena: The presence of women will be increasing in the end of the process, not so much in the winemaking in such a short term, unfortunately. I am not seeing an improvement in the fight for the equality between men and women.
What advice would you give to young women who want to pursue a career in wine?
Marta Casas: A winemaker must understand all aspects of the winemaking process, from the vineyard to the end consumer and be able to adapt to changing circumstaces. You also must be a good wine taster. It is a career that it involves sacrifices and you need to be passionate about it. You must love what you do because without passion and love, wines will not taste as well as they can.
What is the most sexist event that you can remember while working in wine?
Marta Casas: It was 18 years ago when I went to the greatest wine fair in Barcelona and I met a guy that I knew from the high-school. I was already the winemaker at Parés Baltà but he thought I was a hostess.
Nowadays people understand better that a girl could be a winemaker, but long time ago it was a challenge to introduce me as a young winemaker. I was only 26 years old.
Does being a woman have any bearing on winemaking? And is it possible to identify a distinctively "feminine touch" in wines you have created? 
Maria Elena: Every winemaker has a personal touch that has to do with each personality and philosophy, as a human being and not as a part of such a heterogeneous group. I don't think anyone could recognize in a blind tasting a wine made by a woman.
There is an opinion that women are better wine tasters than men. Do you agree?
Maria Elena: As a general rule it could be, because women are usually more aware of all their senses, meanwhile men tend to be more focused in the visual part. However, if we talk about the people related with the wine industry, we are talking about people trained in sensing tastes and aromas, so this difference disappears. It means it's something more cultural than genetic.
 What do you look for when you make wine?
Maria Elena and Marta: Balance and complexity, although as far as winemaking at home is a team work, our wine shows a part of every one of us.
What is your winemaking philosophy and what you are trying to achieve with your wines?
Maria Elena and Marta: Our winemaking strives to reflect the personality of our vineyards in an honest way, achieving the maximum potential of our grapes, without using any kind of unnatural manipulation.
What is your future aim as a wine maker?
To transmit the sensations and feelings we sense in the vineyards into the glass of a person that so far away enjoys it. That our wines could bring a special moment to whom is drinking them.
---
Together, Marta and Maria Elena are creating contemporary wines full of character and balance. We invite you to taste their wines and transport yourself to Penedès Wine Region.