Winemaking starts at vineyards
We are always looking for the highest possible quality in our grapes. Healthy grapes and low yields are very important, but also the critic decision of when the grapes are to be harvested. We are doing precise and careful controls of ripeness. We analyze traditional parameters like alcoholic ripeness or the level of sugar and acidity, but we also control the ripeness of the skins, seeds and pulp.
Thanks to the different grapes that we are cultivating and the diversity ofsoils and climates, we are able to do different kind of vinifications and micro-vinifications:
Macerations and fermentations directly in French or Hungarian oak barrels with pigeage.
Fermentations in oak barrels with battonage technique.
Fermentations exclusively in stainles-steel tanks.
Fermentations in amphorae made with clay coming from our vineyards.
Second fermentations in bottle for our cavas.
Women Winemakers: Maria Elena and Marta
Mª Elena Jiménez and Marta Casas, oenologists and wives of Joan and Josep. Two skilled young women whose efforts are reflected in the quality of the wines, showing fine character and concentration yet with elegance and balance.
The new generation of Parés Baltà offers fresh and innovative ideas in winemaking, staying faithful to the ecological philosophy that the winery has always followed.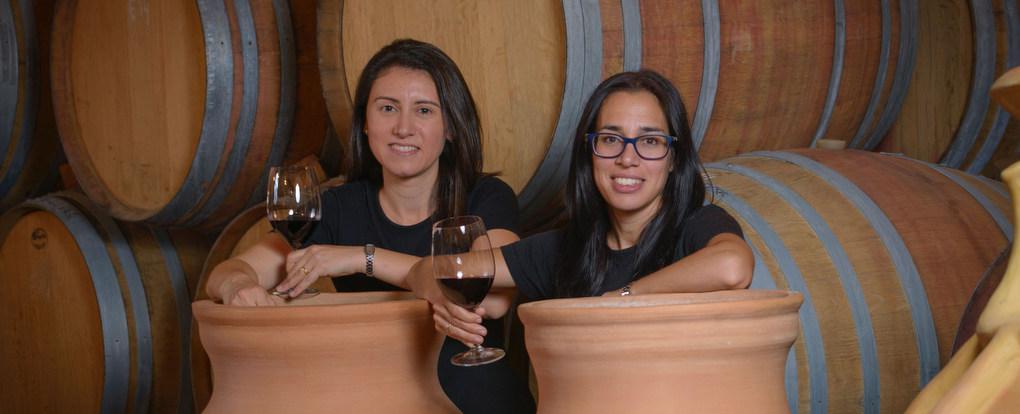 Marta Casas
Marta was born in a small fishermen village, Vilanova i la Geltrú in the rainy December of 1976. During her childhood Marta was surrounded with her grandparents and her great-grandmother, who were all involved in the world of the wine. She fondly remembers her grandfather taking her to his tiny vineyard on his bicycle. The family produced only a small quantity of wine for their own consumption and the rest of the grapes were sold in bulk.

In her grandparents' tiny cellar located downstairs, they had a press, some barrels of 800L and two underground concrete tanks. This was her favorite place to play.

When she grew up, Marta enrolled in the Pharmacy faculty at the University of Barcelona. During her studies, she met Josep Cusiné, who eventually would become her husband. In this period of her life is when her passion for wine started. That was when her passion for wine started: Josep introduced her to wine tastings and they started travelling to different wine countries around the world. She was so interested in the vinification process and in the harvest that she started to investigate the Parés Baltà cellar, feeling as if the wines were flowing through her veins.

While she was completing her degree in pharmacy she decided to stidy Winemaking in Tarragona University too. For two years she was combined her work in a pharmacy with the winemaking studies.

After she graduated from her winemaking degree, she and Josep got married. They spent their honeymoon visiting wine regions like France, Chile, and Napa Valley. When they have time to travel, they continue to tour wine regions around the world. "We are wine lovers and we think that we have to keep learning about the wine" she says. Her grandfather had never imagined that Marta would become a Winemaker. He was very proud of her career as it brought him back memories of his good times with grapes and wine. Nowadays she is totally involved in Parés Baltà with the entire family, sharing the wine tasks with her sister-in-law Maria Elena. They are a good team and they have many things to do in the Parés Baltà project.
Mª Elena Jiménez
After obtaining her degree in Chemical Engineering at IQS University in Barcelona, she worked as a consultant for a few years. During that time, she was introduced to the magical world of wine thanks to her fiancé and eventually husband Joan Cusiné.

This love at first sight resulted in Maria Elena giving up her professional career as a Chemical Engineer and diving into the amazing and passionate world of wine.

After getting her second degree in Enology at Rovira Virgili University in Tarragona, she expanded her wine knowledge by travelling in many different regions such as Bordeaux, Australia, Bourgogne, Côte du Rhône and Napa Valley. Upon her return she got involved in the family business, working as oenologist at the Parés Baltà winery and introducing new ideas to the production of the grapes and wines.

Together with her sister-in-law Marta Casas, they have made an impact on the winemaking at Parés Baltà. They have ensured that each wine has its own full personality while respecting its varietal character and origin. For some wines, they have returned to the past and used some traditional methods of vinification which have been almost forgotten in modern winemaking.